Understanding Industry 4.0 and Digital Trends Driving Industry 4.0 Revolution
The term Industry 4.0 means was revived at Hannover Messe in 2011 by the working group which presented instructions to the German Government on Guidelines and recommendation for Industry 4.0. Industry 4.0 is the Fourth Industrial Revolution where Cloud Computing, Cyber-Physical Systems, Cognitive Computing, Internet of Things, Robotic Automation, Connected Machines are converting factories into Smart Production Systems.
To understand the Industry 4.0 we have to understand the previous versions of it –
1st Industrial Revolution – Using Steam powered engines to drive production in factories. Basically, Conceptualization and Development of Machines which can be run by steam power and produce goods.
2nd Industrial Revolution – Using Electricity for Mass Production, Making Machines more Efficient in Production and Energy Consumption.
3rd Industrial Revolution – Use of Electronics & Information Technology to further Optimize production.
4th Industrial Revolution – Using Cyber-Physical Systems to allow machines to communicate with each other and with humans.
As per Hermann, Pentek, Otto, 2016: Design Principles for Industrie 4.0 Scenarios,
Interconnection – Easy data flow between physical and virtual systems or A connected value chain from the origin of the raw material to the digital supply chain and everything in between.
Information Transparency – Transparent Systems provide accurate data for the stakeholders to make decisions.
Technical Assistance – Helping Humans with tasks through data gathered by the interconnected systems to make decisions much faster or cognitive Intelligence providing decision making to machines
Decentralized Decisions – Cognitive Intelligence, AI and Machine Learning Enabling Machines to perform tasks/jobs autonomously.
As per Forbes – Whether for individual corporates, or society as a whole, the importance of initiatives such as Industry 4.0 cannot therefore be brushed aside as another passing technological fad. If companies adopt the right long-term strategy they can ensure they're on the right side of this transformation, and hopefully these tips will help get you off on the right foot."
Digital Technologies playing a key role in Industry 4.0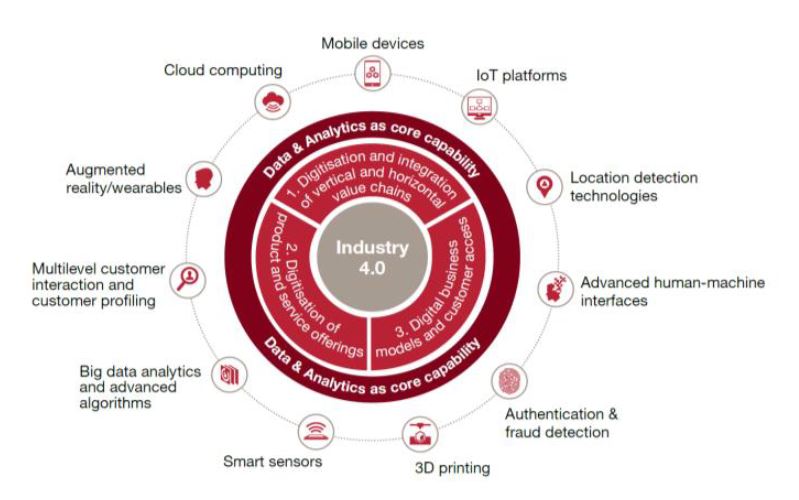 Understanding with Industrial Applications
1)  Digital Twin Manufacturing/Machine system by Siemens
The digital twin is the precise virtual model of a product or a production plant. It displays their development throughout the entire lifecycle and allows operators to predict behavior, optimizing performance, and implement insights from previous design and production experiences.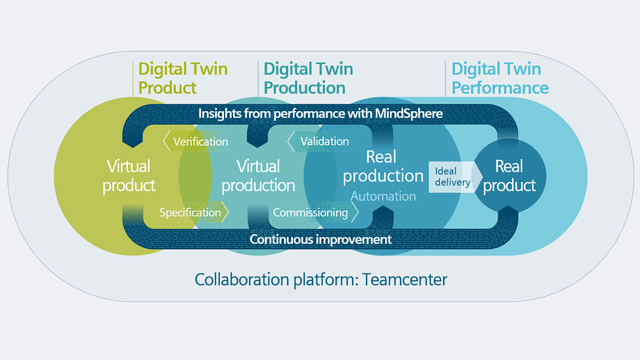 2) We'll connect a billion cows to the internet – Huawei CEO
The NB-IoT-based Connected Cow Solution significantly increases the success rate of cow estrus detection and the revenue of dairy farms.
3) Machine Diagnostics and Predictive Maintenance
Bosch estimates that by implementing IOT and enabling the Machines to communicate with help of IOT factories can reduce machine downtime by 40 percent,6 potentially saving millions of dollars in lost production for larger manufacturers.
Implementation of Industrie 4.0 and IoT concepts comes with a wide range of requirements, particularly for machine diagnostics, including online and offline condition analysis, predictive maintenance, pattern recognition, machine optimization or long-term data archival. As a result, seamless and cycle-synchronous data acquisition becomes a prerequisite for effective analysis and correction of processing errors in the machine.
4) Industry 4.0 Digital Supply Chain
The digital supply chain, as we envision it, consists of eight key elements: integrated planning and execution, logistics visibility, Procurement 4.0, smart warehousing, efficient spare parts management, autonomous and B2C logistics, prescriptive supply chain analytics, and digital supply chain enablers. Companies that can put together these pieces into a coherent and fully transparent whole will gain huge advantages in customer service, flexibility, efficiency, and cost reduction; those that delay will be left further and further behind.
We help companies with digital transformation, reach out to us to know what can we do for you to keep you ahead of time.